The story of Gertrude Hawk Chocolates began with a need. In 1936, Gertrude Hawk needed money. Her family was struggling financially during the Great Depression. Her husband's job as a car salesman was not enough. Facing this need, Gertrude turned to a skill she possessed: chocolate making and dipping. She had learned the craft of chocolate at a local shop when she was a teenager. Gertrude left school after her father died when she was twelve and was helped to support her family then as a chocolate dipper. At two moments in her life—as a teenage girl and as a middle-aged woman—Gertrude answered the needs of her family by going to work. This moment in 1936 when Gertrude Hawk used the best skills she had and started a business in her kitchen would shape her life, her community, and her family's for generations.
One of Gertrude's first customers was a local church that also needed funds. Partnering with churches, schools, and other non-profit organizations to fundraise became one of the hallmarks of Gertrude's kitchen-based business (of chocolate covered goodness).
Pictured right: The kitchen of Gertrude Hawk Chocolates on Mark Avenue in Scranton, Pennsylvania.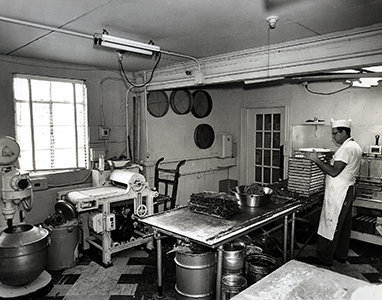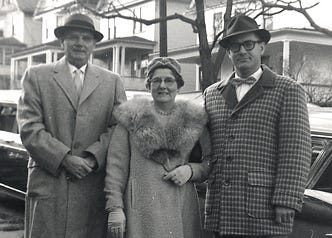 From 1936-1945 Gertrude continued to make chocolates in her kitchen. When Gertrude's son Elmer returned from serving in World War II he also had a need: to work. Like many members of his generation, Elmer Hawk was driven and not afraid of hard work. One of the things he wanted was to own his own business. He took business classes at a local college funded by the GI bill and realized the answer to his career-path dilemma was right in front of him: his mother's chocolate business. Gertrude and Elmer formed a partnership and she taught him about the craft of chocolate making.
Pictured left: Elmer, Gertrude and their son Elmer.
Maybe because I liked eating chocolate. It's a fun business.
Very rarely do you meet someone who doesn't enjoy chocolate.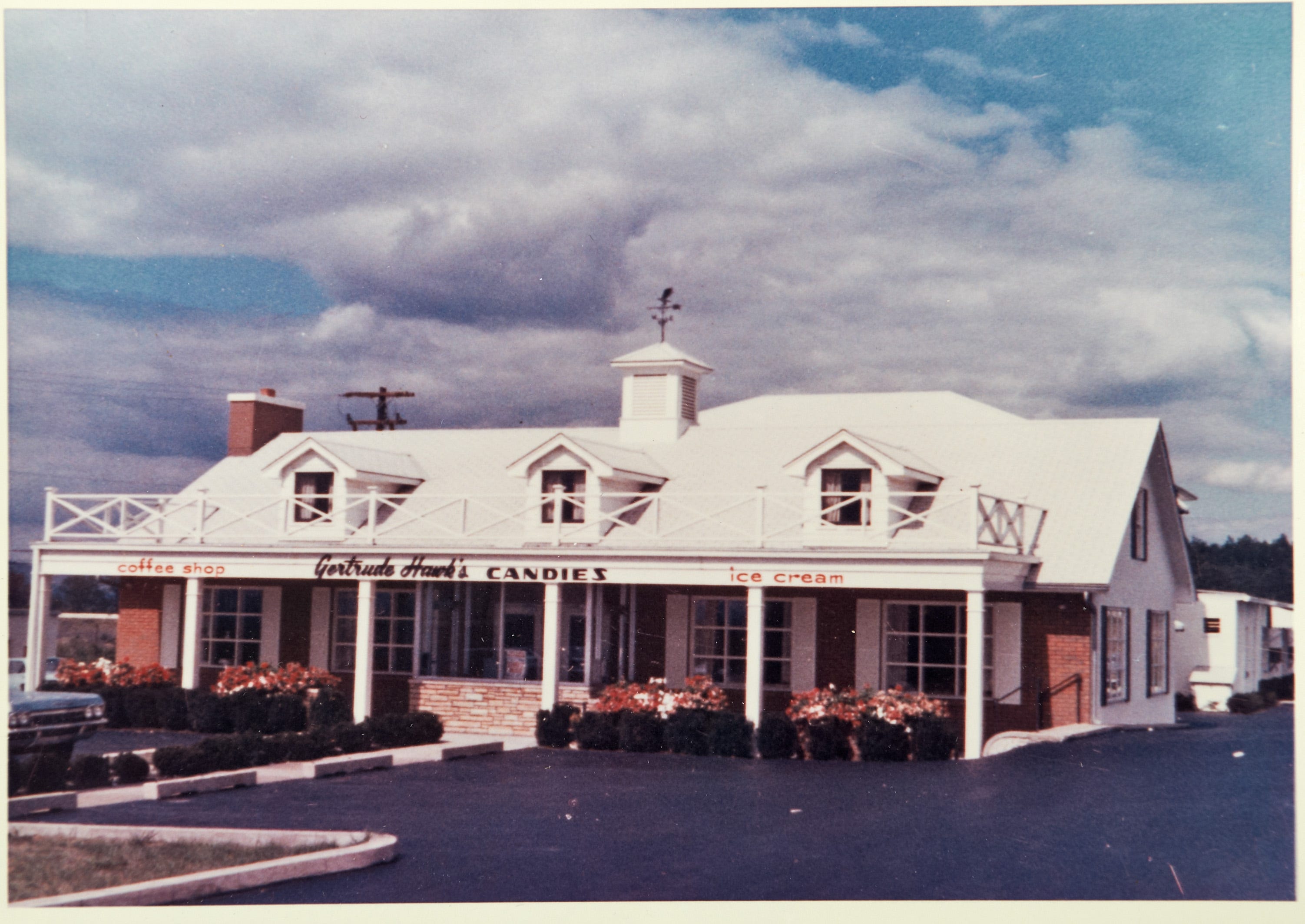 Over the years, Gertrude Hawk Chocolates expanded, fueled by a reputation for quality, Gertrude's recipes, and Elmer's business acumen. Elmer married Louise Horger Hawk and soon two families entirely depended on the chocolate business for their livelihood. In 1959, an interstate highway project needed Gertrude and Elmer Sr's home. In response, Gertrude Hawk Chocolates built a new store and factory nearby. Gertrude and Elmer Senior lived in an apartment above the factory.
Pictured left: The location on Drinker Street in Dunmore, Pennsylvania.
---
In 1971, Elmer and Louise's son David joined the family business. Elmer and David formed a lasting partnership. David's need was a bit different from his father and his grandmother: he needed to grow and innovate. Under David's leadership, Gertrude Hawk Chocolates would expand its geographic footprint out of northeastern Pennsylvania. In the early 1980's the company would invest in a one-shot shellmolder, a new process for forming molded chocolates. Soon after this investment was made, the Smidgen was born! Peanut Butter Smidgens quickly became our #1 selling chocolate and remains so today.
Pictured to the right: David and Elmer Hawk.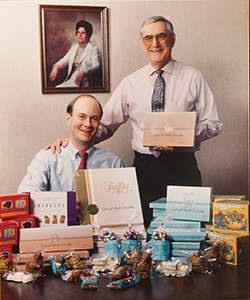 Gertrude Hawk's American dream became a family heirloom
Gertrude Hawk Chocolates would continue to grow through the 1990's, 2000's, 2010 until today. We are proud of our reputation for quality, craftmanship, and innovation with generations of customers and in the chocolate industry. We are firmly rooted in our home community and the state of Pennsylvania, and we also have stores in New Jersey and New York. We help hundreds of school, community, and non-profit organizations meet their monetary needs with our fundraising programs. The Hawk Family Foundation contributes more than one million dollars a year towards bettering our community.
Today, all four of David Hawk's children work and contribute in some capacity at our company. Our goal is to continue the tradition of bringing delicious chocolate covered happiness to the world for generations to come!