Calling all bakers! If ever there was a year to go in deep with the holiday baking, this year is it.
Today, we are making a Hawk Family tradition: the Smidgen Blossom! In the 1980s, members of the Hawk family would bring this twist on the Peanut Butter Blossom to family gatherings. Traditionally, a small confection from a chocolate company (that shall remain unnamed) topped a peanut butter cookie. Of course, in our version, we add a Peanut Butter Smidgen. The Peanut Butter Smidgen amps up the peanut butter flavor and brings holiday fun to the cookie with Gertrude's whimsical shapes. Not only that, the Smidgen also adds 100% more delicious goodness to your cookie.
Twists on the recipe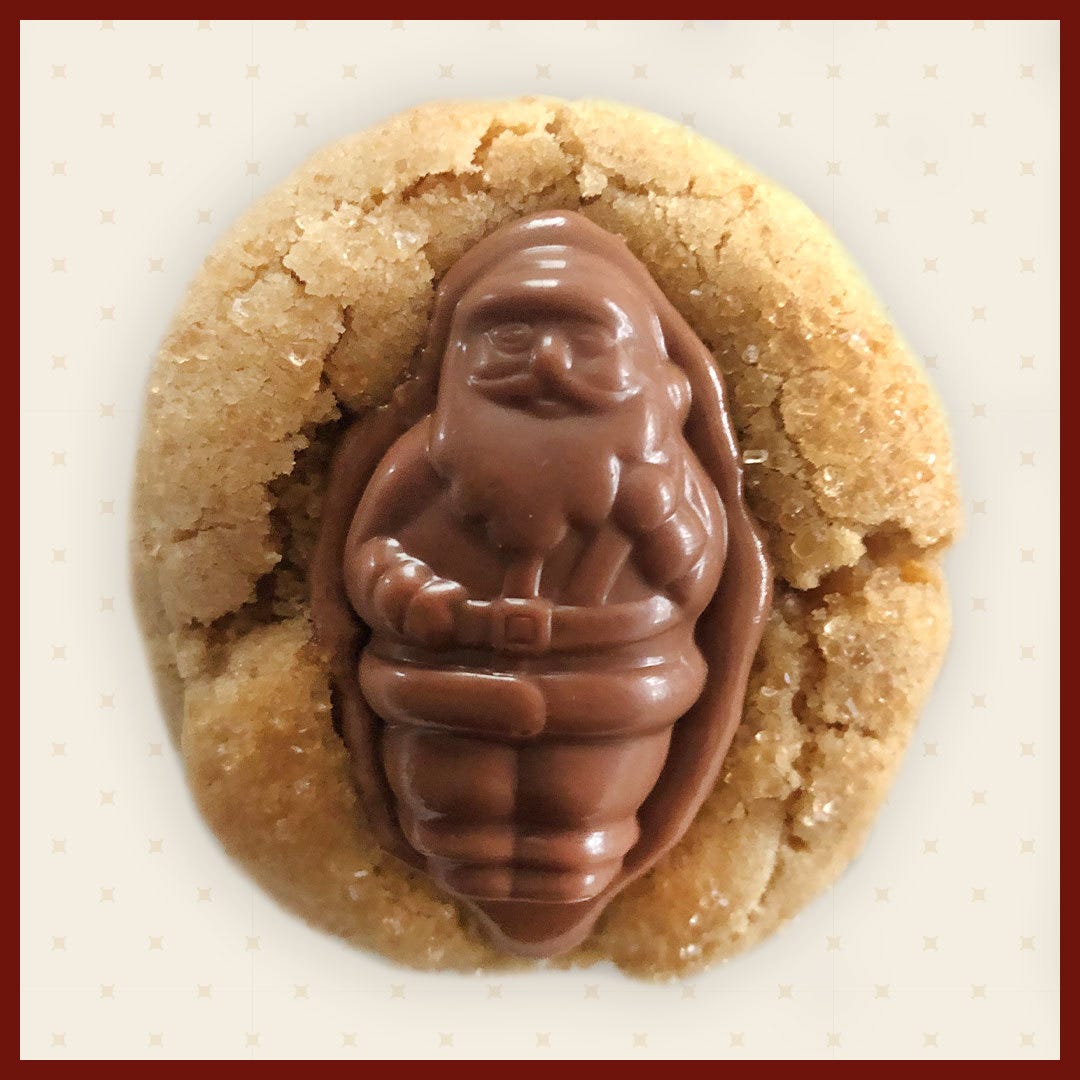 This recipe can be modified in a number of ways.
1. Replace the listed Peanut Butter Smidgen with any Smidgen flavor of choice (caramel, dark, solid or pretzel would all be yummy).
2. Want extra texture? Use crunchy peanut butter!
3. Roll the cookie ball in colored sugar to add more holiday flair (or use a coarse sugar like turbinado).
Be warned that the Smidgen Shapes may slightly lose definition after you add them to the cookie. If that bothers you, try cooling them slightly before adding the final Smidgen touch to the top. Make sure to lightly press Smidgens into the cookie; the deeper you press them in the more your Smidgen will lose his shape.
Top with your favorite Smigen flavor

---
Ingredients
Peanut Butter Smidgens (or your favorite Smidgen flavor)
1 ¾ cups all-purpose flour
1 teaspoon baking soda
½ teaspoon salt
4 ounces (1 stick) salted butter, at room temperature
½ cup smooth peanut butter (or other creamy nut butter)
½ cup granulated sugar, plus more for rolling
½ cup light brown sugar
1 large egg
1 tablespoon milk, half-and-half, oat milk or nut milk
1 teaspoon vanilla extract
Nonstick spray or vegetable oil for cookie sheet (optional)
---
Preparation
Step 1
In a medium bowl, sift together flour, baking soda and salt; set aside.
Step 2
Using an electric mixer, cream together butter, peanut butter, 1/2 cup granulated sugar and light brown sugar. Add the egg, mixing until combined, then add the milk and vanilla and beat until well blended.
Step 3
Gradually add flour mixture, mixing thoroughly.The dough may be very soft. Refrigerate for 30 minutes to 1 hour, so it is easier to work with.
Step 4
Preheat oven to 375 degrees. Spray, oil, butter or line a cookie sheet with nonstick liner and set aside. Roll dough into 1-inch balls using a heaping tablespoon or a cookie scoop.
Step 5
Roll cookies in sugar and place 2 inches apart on cookie sheet. Bake until light brown and puffed, about 8 to 10 minutes
Step 6
Remove sheet from oven and lightly press a Smidgen into the soft center of each cookie, allowing it to crack slightly. Immediately remove the cookies from hot cookie sheet, cool completely and store in an airtight container (if they last that long).
---